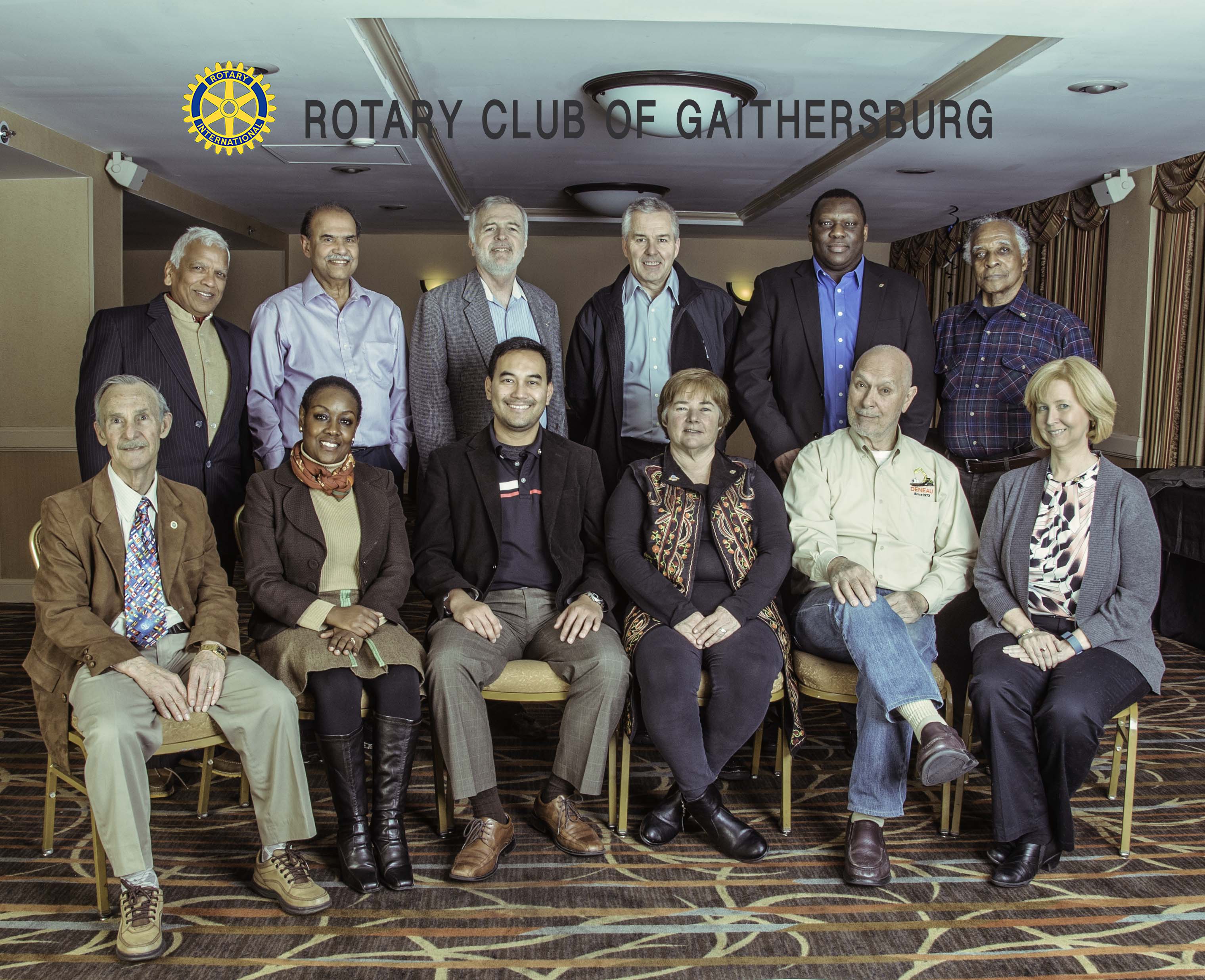 The Rotary Club of Gaithersburg was founded in 1966 in Olde Towne, Gaithersburg. It rapidly became an important part of our community and continues to be so. The Club meets for lunch on Tuesdays. After many years in Olde Towne, it moved to the Holiday Inn at Route 355 and Montgomery Village Avenue. In 2012, the Club incorporated the Gaithersburg Rotary Foundation and, in 2014, that foundation received 501(c)(3) status.
Over the years, the Club has supported many worthwhile organizations and/or participated in their activities including:
International projects:
Contributed to Rotary's ongoing, worldwide effort to eradicate polio worldwide
Donated funds for education and water projects in developing countries
Adopted Kibo, an orphaned elephant in Kenya
Local projects:
Donated thousands of dictionaries to Gaithersburg 3rd graders
Partnered with Beethoven Foundation to provide musical instruments to students in high school bands
Provided scholarships to graduating seniors from Gaithersburg High School
Sponsored Interact clubs at both Gaithersburg and Quince Orchard high schools.
Supported the city's Character Counts! program by grading "My Hero" essays and contributing to prizes
Supported the Gaithersburg Holiday Giving program and brightened the lives of senior citizens at Asbury Methodist Village through our holiday activities
Donations to community organizations such as ARC of Montgomery
For the band instrument project above, we doubled our club's donation with a grant from our Rotary district and bought instruments at wholesale prices, which funded about 8 times more instruments than our original contribution would have bought at retail. In 2013, we provided a scholarship to a graduating senior and then helped him apply for, and win, a $5,000 scholarship from our district. Such is the power of Rotary.
The Club is part of Rotary International, an organization that was formed in 1905 and has 1.2 million members in nearly every country in the world. Together, we are a powerful force for promoting peace, fighting disease, providing clean water, saving our mothers and children, supporting education and growing local economies. Rotary has a seat in the United Nations and has received major grants from the Bill and Melinda Gates Foundation.
We invite you to visit our club in Gaithersburg, Maryland, meet our members and enjoy providing "Service Above Self" in the community while networking with local professionals and business owners:
ROTARY CLUB OF GAITHERSBURG
The Gaithersburg Rotary meets Tuesdays at 12:15 p.m.
Meeting Place:
Holiday Inn Gaithersburg
2 Montgomery Village Ave.
Gaithersburg, MD 20879
Mail:
Rotary Club of Gaithersburg
PO Box 312
Gaithersburg, MD 20884